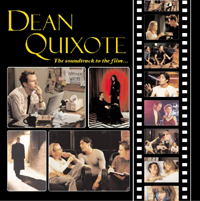 It's very rare for a film's soundtrack to take off before the film itself even has a distributor. But ever since Dean Quixote: The Soundtrack to the Film... came out on spinART records, it's defied the odds, garnering an avalanche of critical praise and enthusiastic fan mail.
Tidal Wave says: "This soundtrack, like that of The Royal Tennenbaums and Storytelling, expertly mines the wonderfully obscure. Here's to hoping it brings thousands of souls out of musical darkness. "
Billboard says: "A who's who of the independent rock scene graces the soundtrack to the independent film Dean Quixote..."
Seattle Weekly calls the roster of acts "a record-store clerk's wet-dream."
INK 19 says: "The soundtrack is intriguing enough to make me want to see [the film]...A great selection of great music."
The All Music Guide says: "Every band is captured at the peak of its powers (with rare songs, no less), making the record seem like it's capturing a vibrant scene - one that's reverent of the '60s, to be sure, but shimmering with a love of making music and even a touch of invention. In fact, there are few better ways to be introduced to the state of indie pop at the dawn of the '00s."
Pitchfork Media says: "Orion Walker seems to be a man of sage-like advice and the psychedelic murmuring of his mix tape to us, his audience, only reinforces the notion that he's a thinking man's man and his taste is nigh impeccable...My expectations for the actual film have far exceeded the very constraints of cinema. Rating: 8.1 / 10"
Entertainment Today says: "Dean Quixote, a new comedy from first-time filmmaker Orion Walker, still awaits wide release, but it's already spawned a killer soundtrack. The 13-track collection provides a handy pocket overview of end-of-the-century indie rock...The Dean Quixote Soundtrack makes a persuasive argument that much of the best made music in the 90's was crafted well outside the mainstream."
Argosy.ca says: "The Dean Quixote soundtrack consists of a pleasant mix of innovative indie rock from (arguably) the very best of America's poppy-psychadelic underground…Indeed, for anyone not familiar with the American indie scene, this soundtrack will likely sound like the best mix tape one could hope for, chock full of three minute gems that are both instantly appealing and lastingly satisfying. Of course, for those familiar with nouveau psychadelia-pop, the soundtrack is simply a shrewdly chosen list of the most important bands of the mid to late nineties…If you are familiar with these groups, you will enjoy this soundtrack, if you've never heard of them, I implore you to buy it."